Salmon Fishing in Seward, Alaska
---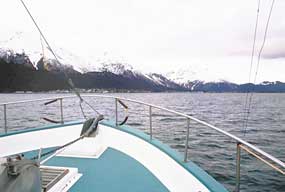 © Cathy Pitt
Heading home to Seward
Because we are ALWAYS out on the water fishing, please leave a message. I check messages several times a day. I'll return your call ASAP so you can join us on the Florette C. and enjoy the best fishing adventure of your life!
Come Troll with the Pros at Seward, Alaska!

The Breeze Inn offers a special discount for guests of Alaska Saltwater Charters. The hotel is located right in the harbor and across the street from our dock. They can be reached at www.breezeinn.com. Be sure to ask for the AK Saltwater rate when booking.
Home | About Us | Fish Facts | Gallery | Recipes | Contact Us
Our Commitment to Quality

Alaska Saltwater Charters
P.O. Box 584, Seward, AK, 99664
907-224-7254
King Salmon fishing charters from Seward Alaska

Hosted by Net Alaska Web Services